Ultrasonic Probe Sonicator 40 kHz 250 Watt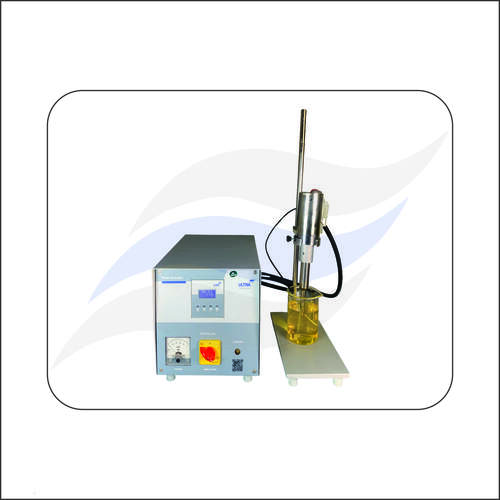 Ultrasonic Probe Sonicator 40 kHz 250 Watt
Price And Quantity
Product Specifications
20-250 Milliliter (ML)

230 V Volt (v)
250 W Watt (w)

16 Kilograms (kg)
Sample preparation, cell lysis disaggregation, homogenization, particle size reduction

Generator Material: MS ; Probe Material: Titanium
Industrial, Research Lab, Pharmaceuticals

1 to 150 Celsius (oC)
LCD Touchpad Display/ Touch Screen
Product Description
Ultra Autosonic design, develop and manufacture the worlds most advanced ultrasonic liquid processors. We provide advanced technology with our Probe Sonicators. Our Ultra Autosonic Probe Sonicators are specially designed for nanoparticle dispersion. Sonication is extremely effective for processing nanomaterials such as carbon nanotubes, graphene inks, cells, bacteria, spores tissue, and many other materials.

Sonication is used in the pharmaceutical, food and pesticide, and cosmetic industries as well as for inks, paints, and coatings, wood and wood treatment, and metalworking.


Typical applications include sample preparation, cell lysis disaggregation, homogenization, particle size reduction, soil testing, and acceleration of chemical reactions. Vibrations from the probe form millions of microscopic bubbles (cavities) that expand and implode violently.


We have supplied our machines to many schools, colleges, and corporate houses. 1000+ machines supplied and installed successfully in the market.